MAY 2019 WALNUT MONTHLY MANAGEMENT REPORT AND DISCUSSION
The California Walnut Board released the MAY 2019 Position Report. Our table of these figures are shown below:
MMR and YTD HIGHLIGHTS
1) Monthly inshell equivalent shipments –8% vs PY
– Export inshell equivalent shipments –15% vs PY
– Domestic inshell equivalent shipments +1.8%
2) Year to date inshell equivalent shipments +9.7% vs PY
– Export inshell equivalent YTD shipments +7.0% vs. PY
– Domestic inshell equivalent YTD shipments +16.1% vs. PY
MMR DISCUSSION
The Calif. Walnut industry was down -8% in May 2019 over PY May 2018. A majority of the Packers reported being quiet but the uptick in Domestic shipments by 1.8% was most likely the result of further USDA Trade Mitigation shipments which are in full swing. Without the inclusion of these USDA shipments, May's performance on paper would be fairly disappointing. This was the first month over month decline in some time as April 2019 was up 17%, March 2019 which was up 26.3% over PY, February 2019 which was up 35.9% over PY and a January 2019 up 38.7% against PY. Clearly momentum has waned.
Export inshell for the month was down 16.7% and export shelled was down 15%. Domestic inshell shipments are insignificant and Domestic kernel pretty much kept pace for May 2019 compared to prior May 2018.
Year to date, Export Inshell is still up 15.7%, domestic is down 16% while domestic and export kernel sales are up 18% and 1.8% respectively.
Analytical Discussion
Following last month's presentation of the below historical table, we've added performance for May 2019. With this, the industry is at 87.1% sold based on "crop". Assuming the next 3 months performance in red, the industry could conceivable sell 101.1% of the crop thus cutting into to the carryout slightly.
Calif. Walnuts Shipments by Month, Inshell equivalent ton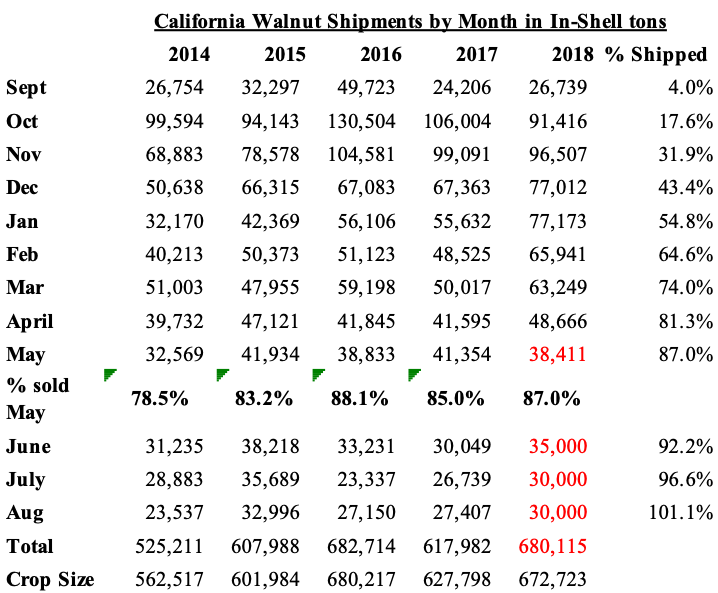 The chart above suggest that for the next 3 months, June 2019 – August 2019, the industry needs to average 31,667 ton of sales each month to move 101.1% of the crop. The question is whether this forecast can be achieved or not.
– Chile – Chilenut released May Walnut Position report with shipment of 24,766 tons compared to last year of 17,814 tons an increase of 39%. For the month of May 2019; UAE up 235%, Turkey is up 9%, China up 137% and India down 60% compared to last year. YTD shipments are 42,819 tons compared to 30,571 tons last year an increase of 40%.
Current price of inshell Chandler is around $2.85-2.95/kg CFR, 80% LHP at $8.10/kg CFR and Hand Cracked is around $11.00/kg CFR. Larger packers are reporting they are sold out on inshell. Chile so far shipped 33% of their crop and needs to ship additional 85,000 tons for this season. Does Chile have the momentum to carry on or will the higher prices push buyers away from Chile and focus their buying from other destinations? Last year, Chile was long on their own goods well into the start of the 2018-2019 California walnut season which affected California prices well into December 2018. If the larger Chilean packers are sold out on inshell, there will be a 5 month gap to the start of CA inshell shipping season with the opportunity for momentum to build. On the other hand, if inshell is close to being sold out but still 85,000 tons are left to ship, presumably that will be in kernel sales. How will those kernel sales over the Summer affect California and into the start of the 2019 new crop? Also, how accurate is this estimate of 130,000 ton which is down from their prior estimate of 150,000 ton?
– CA Cold Storage – This is clearly in full force and many good deals can be had today as packer's would like to close out the season finalize their growers.
– New Crop – There continues to be discussion in the field by packers and growers notating "lower nut cluster counts with more singles and doubles than triples and quadruples". It is still very early but some packers have talked about a forecast as low as 650,000 ton while some packers have talked about the new crop 2019 being closer to this current crop of 672,723 ton instead of something over 700,000 ton. Limited amounts of new crop Chandler Jumbo/Large has been done mostly around $1.15/lb.
– Pricing for walnut material is as follows has changed very little from last month: Domestic LHP $2.45 -$2.60/lb, Export quality 20% LHP $2.85 – $3.00/lb. CHP $2.35/lb to $2.45/lb. Chandler Halves $3.20 to $3.30/lb range with minimal material available. Inshell material is pretty much non-existent.
Conclusion – The historical chart still suggests that the industry is in a good position but the silence in the market is deafening. Can the forecast for the next three months be achieved? Chile will continue to be a factor around the world helping to either boost California momentum or hurt it prior to new crop. What does new crop California walnuts truly look like? We've been talking about a California walnut crop potential for 725,000 ton for quite some time and it has not materialized for one reason or another. When it does watch out.